Veterinary Team
Rancho San Carlos Pet Clinic
Your pet is more than just an animal that resides in your home. They are an integral part of the family.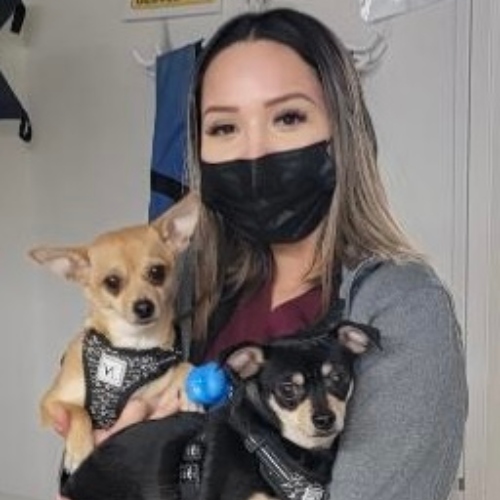 Melissa
Veterinary Assistant
Melissa grew up in San Diego. This is her first year as a Veterinary Assistant. She loves animals which is why she decided to choose a career that helps them. Outside of work, she loves to bake, go to the beach, hike with her dogs, spend time with her family, and watch movies. Her two dogs consist of, one named Daisy who enjoys hunting and rolling down windows during car rides, and Rose who loves to follow her sister everywhere.
Laura
Veterinary Assistant
Laura was born and rasied in San Diego. She was in retail management for 23 years but decided to go back to school to be in the veterinary field. Laura is currently married and has a teenage daughter. In her free time, she enjoys hiking and camping. Her pets at home include a dog, named Kippur, a long haired cat named George, and a grey tabby named Cosmo.
Lina C.
Hospital Manager
Lina joins us after moving from her hometown in Virginia. She has a history of working with TSA before following her passion for working with animals. She shares her home with two adorable dogs, Moses (pittie) and Ewok (shitzu/pug). In her spare time, she explores San Diego beaches and hiking areas.
Lauren
Lauren grew up in the Chicago suburbs of Lemont, Illinois. She is excited to transition to this field from retail. In her free time, Lauren enjoys hiking, biking, running, her favorite snacks (anything gluten-free), going to the beach, and anything outside. She also enjoys discovering music, art, and restaurants. In her family, she is the youngest of three girls and her parents raised her to love and respect animals. 
Jeanne
Client Service Representative
Jeanne grew up in Southern California. She attended veterinary school in São Paulo, Brazil and is currently working on validating her diploma here in the U.S. She is hoping to continue her education focusing on soft tissue surgery.
Her interests outside of work include traveling, visiting museums, going to the beach, watching random documentaries, going to concerts, playing the French horn, and painting whenever she can. Her family includes her two younger sisters, her furry nephew named Salem, and her Golden Retriever godpuppy named Neo. Her favorite snacks include vegan donuts, pastries, and boba. The way Jeanne shows appreciation is through thoughtful gifts.
Armon
Client Service Representative
Armon has an education in Human Biology and is a Pima Med Institute graduate. He has also been a vet assistant for 3+ years. Armon grew up in San Diego, CA, and enjoys playing video games, rock climbing, and anything involving music. He cherishes his mother and grandma and has 2 sisters that are younger than him. Some of his favorite snacks are grapes, plums, dark coffee, seafood, and a good candy bar. Armon's personality is bold and comedic in nature. He looks forward to serving clients and their pets.
Jeniffer
Client Service Representative
Bio coming soon!
Elisa
Veterinary Assistant
Bio coming soon!
Claire
Client Service Representative
Claire is a San Carlos native and a recent graduate from the University of California, Davis, with a major in wildlife, fish, and conservation biology. She loves visiting friends in the eastern Sierra Nevada mountains, where she spends much of her time hiking, camping, taking photos, and looking for wildlife. The rest of her free time is spent cooking, listening to true crime podcasts, and/or walking her beloved dog, Phoebe. She adores all sorts of pets, and is very excited about beginning a career in the veterinary field!
Meet Our Specialists Partners